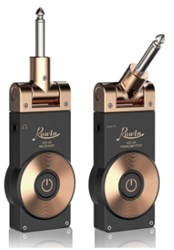 4
1
4

19-3-2018 13:13:26

Draadloos spelen is vaak duur. Deze set is goed betaalbaar en super klein/compact. Pas voor in mijn gitaar-tas in meegeleverde doos. Plug & Play. Ik speel er nu al 2 repetitie op zonder te hoeven laden. Oplaadkabel(s) zitten erbij. Op te laden middels USB. Dus overal aanwezig of met je telefoon lader. Duidelijke batterij indicatie. 6 sets tegelijk bruikbaar ON-STAGE,....Onze bassist wil er ook een voor zijn verjaardag.
Wireless Guitar / Bass
Productnummer: WS-20
€
50
,
00
WS-20
Wireless System offers a reliable and affordable way to transmit your guitar (or any other electric musical instrument) signal, enabling you to break free from using cables. With a transmission distance up to 30 metres, you are afforded the freedom to roam the stage for a truly dynamic performance.
The WS-20 comes in the handy pocket-sized forms of a transmitter and its corresponding receiver. The design makes it very easy to use: simply plug in each unit into your guitar and corresponding amp/pedal chain, each unit will talk to each other and sync up, then you are good to go. Each unit is equipped with red LEDs that indicate whether or not the units have synced correctly. With an impressive 105dB dynamic range at your disposal, crystal-clear sampling at 24Bit/48kHz, and a frequency range spanning 20Hz to 20kHz, you can rest assured that the most subtle of nuances with regard to your performance are captured and transmitted with the utmost fidelity.