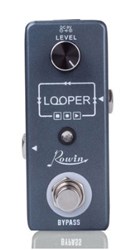 5
1
5

27-5-2018 20:25:48

In alle eenvoud kunnen spelen met LOOPS en je eigen ingespeelde partijen. Meerdere lagen mogelijk. Echt heel fijn en makkelijk. Als al niet voor live,...wat overigens prima werkt,..dan om je solo's te oefenen. Speel je akkoorden en oefen eindeloos over je eigen ingespeelde akkoorden.
Looper Mini-Pedal
€
59
,
95
Looper
The compact Looper pedal from Rowin will enhance any guitarist performance with the capability to record, playback, overdub as well as store and upload pre-recorded sounds and tracks from a Windows based PC. With a click of the footswitch, the player can seamlessly move between modes, and utilise up to the 10 minutes of recording loop time available.
It's designed for guitarists, it can save what you last played when you unplugging the pedal. This means absolutely zero worries, as the music you have created stays stored and is ready to go when you need it - be it just jamming on ideas, rehearsal, live performance or studio.